Dealers and service providers for tough, quality brands.
Town & Country Sales & Service is your source for a wide variety of short line agricultural and industrial equipment. We sell premium implements from top producers and a few high quality value brands as well. We stand behind the equipment we sell and our team of experts are able to help you find the best piece of equipment for your application.
Contact us with inquiries on any of these lines of equipment.

Bush Hog is a name synonymous with land clearing equipment. Recipient of the 2017 Gold Level Award by the Equipment Dealers Association. Bush Hog produces heavy-duty, pto driven field and turf equipment that delivers unmatched performance and productivity with minimal maintenance for many years. Bush Hog specializes in producing:
Rotary Cutters (single and multi-spindle), plows, harrows, tillers, boom mowers, post hole diggers, backhoes, pallet forks and much, much more.

Farm King, a division of Buhler Inc., produces top of the line agricultural equipment for the serious farmer who values reliability and quality. Featuring their sub-brand Allied, Farm King is the leader in farm applications such as grain handling, tillage, landscaping, spraying, fertilizing and hay.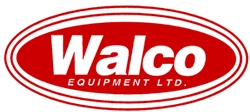 Walco Equipment are a distributor of short line Agricultural Equipment, Industrial Products, Cargo Control & Tire Chain based in Elmira, Ontario. Featured products include: cultivators, harrows, cement mixers, rotary mowers, grader blades, box scrapers and much more.
Our Services
Sales and set-up of all sizes of farm implements
Parts for all brands of tractor and other AG equipment
Service and repair of damaged equipment, all makes and models